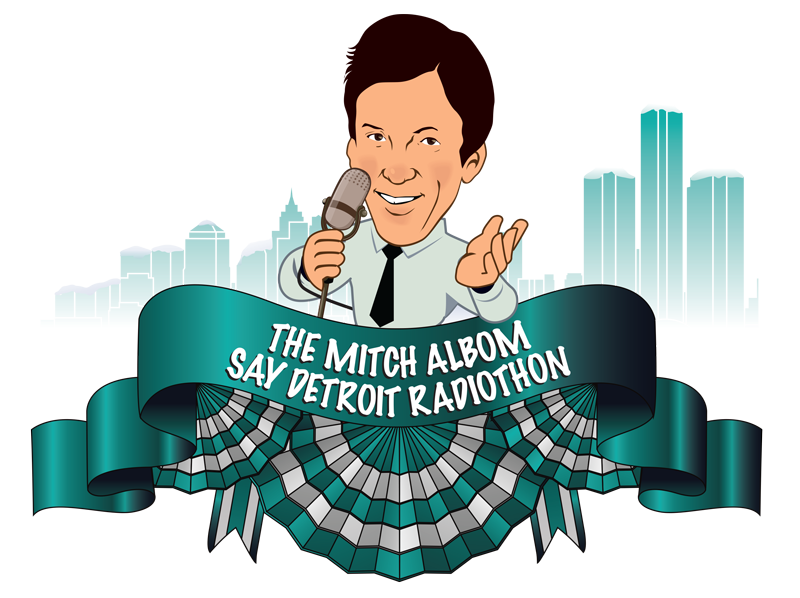 For the fifth year in a row, the SAY Detroit Radiothon broke the $1 million dollar mark in funds raised during a marathon 15-hour broadcast.
100% of the profits benefit SAY Detroit
Now open in Somerset Collection (Troy, MI)
Anchored by Mitch Albom, Mike Lupica, and Bob Ryan – three of The Sports Reporters longest-standing members – the magic of the show is now in podcast form, brought to you every Monday and Friday
100% of the profits benefit SAY Detroit
Now open in downtown Detroit
Inspired by the worldwide No. 1 bestseller Tuesdays with Morrie, join Mitch Albom on this interactive podcast as he explores the themes he and his old professor spoke about as Morrie was leaving the world, and how they relate to leading a better life.
With Nora Menkin, Executive Director of the People's Memorial Association, we discuss how social distancing and the prohibiting of public gatherings has affected the funeral industry and, in turn, how people are able to grieve. We'll learn new ways of memorializing our loved ones and what you can expect as we all adjust to this new way of living – and dying.
First of all, she has a name. Gretchen Whitmer. She is not "the woman" or "all she does is sit there" or "you know who I'm talking about" — all phrases President Donald Trump has used besides saying the actual name of the person Michigan voters elected...
Learn from how Morrie dealt with his own ever-shrinking world, due to ALS, and how you can apply his wisdom behind your own closed doors. We could have never imagined the challenges that have come our way over the past few weeks, but we can manage to get through them by thinking bigger as our world gets smaller.
The only newsletter dedicated to updates, exclusive content, and giveaways of Mitch's books!
Reading Groups
Register your reading group and access video and print-ready discussion guides.
Educators
Using one of Mitch's books in the classroom? Please share your story in the Teachers' section of the site, where you will also find educators' guides.
Inspired by visits to his dying professor Morrie Schwartz – who told him "Giving is living" – author Mitch Albom began to form charities in the mid-1990s. Today, SAY Detroit and the Have Faith Haiti Mission & Orphanage are helping those who need it most.