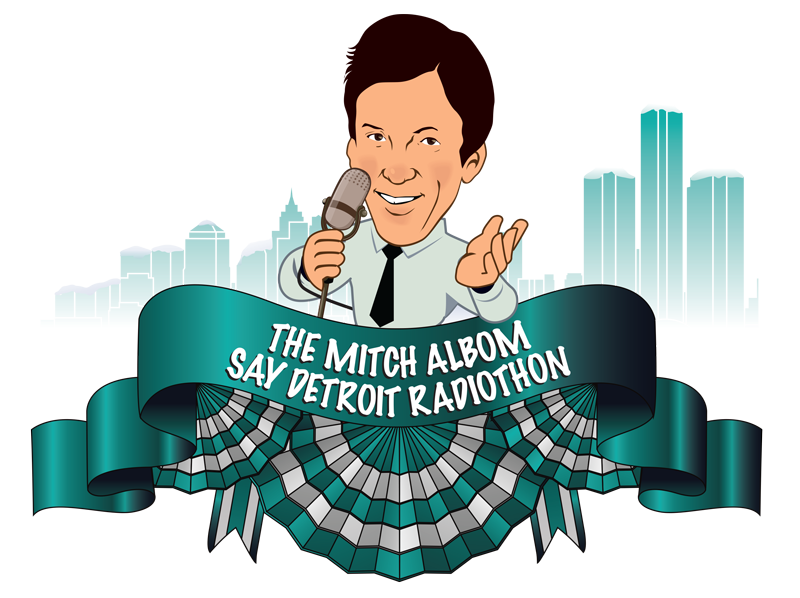 For the fifth year in a row, the SAY Detroit Radiothon broke the $1 million dollar mark in funds raised during a marathon 15-hour broadcast.
100% of the profits benefit SAY Detroit
Now open in Somerset Collection (Troy, MI)
Anchored by Mitch Albom, Mike Lupica, and Bob Ryan – three of The Sports Reporters longest-standing members – the magic of the show is now in podcast form, brought to you every Monday and Friday
100% of the profits benefit SAY Detroit
Now open in downtown Detroit
Inspired by the worldwide No. 1 bestseller Tuesdays with Morrie, join Mitch Albom on this interactive podcast as he explores the themes he and his old professor spoke about as Morrie was leaving the world, and how they relate to leading a better life.
Man is not built to fly. Some still do. Kobe Bryant did. He flew through the air of suburban Philadelphia basketball courts and he flew over college altogether and landed in the NBA as a 17-year-old, where he flew through defenders, flew through the record...
As a writer of books, I guess I should be happy that any book is getting attention in this TV- and movie-soaked world. I do wish it wasn't for these reasons. A new novel by a writer named Jeanine Cummins is causing some to go crazy with praise and others to go...
How to break away from feelings of sadness, depression, anger, jealousy. Morrie had to learn to detach from his frustration with ALS – and he found that immersing yourself in your own pain, then stepping away from it, is the key to making peace with it.
The only newsletter dedicated to updates, exclusive content, and giveaways of Mitch's books!
Reading Groups
Register your reading group and access video and print-ready discussion guides.
Educators
Using one of Mitch's books in the classroom? Please share your story in the Teachers' section of the site, where you will also find educators' guides.
Inspired by visits to his dying professor Morrie Schwartz – who told him "Giving is living" – author Mitch Albom began to form charities in the mid-1990s. Today, SAY Detroit and the Have Faith Haiti Mission & Orphanage are helping those who need it most.